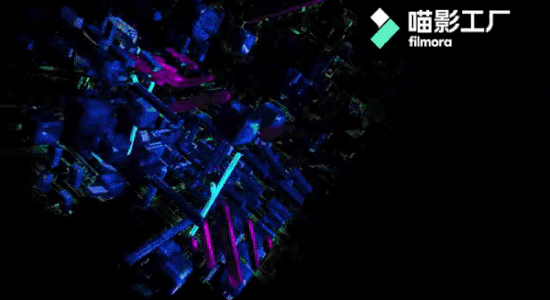 This is a brand new concept idea as a retro handheld console, Serious Play N+ Digi Dock 2 Docking Station come with a full new features for future. Why it named as dock? because it does have a lot of the possibilities to DIY to fit with your own setting of hardware and software for your own needed for your own budget.
Cores Support
It does not come with any core but it does support various types core and platform from as long as within the internal size of 126mm x 95mm x 15mm :
Raspberry Pi 3A/ 3A+/ 3B/ 3B+/ 4B+

Nanopi

Tinker Board

Up Core

Android TV Stick X96S

Interl M3 Computer Stick

and any other cores that able to fit in
Display Screen
With 5.5" display with better view and colour support, it also supporting multi-point capacitive touch and up to 5 points at the same time.
Display color with 65K / 262K / 16.7M and with high resolution up to 720p with working temperature: - 20-70 ° C. To access the display module menu setting with a easy one dial or one click of switch to adjust the backlight brightness, contrast and other optical parameters.
Sound / Volume
Come with retro style volume adjustment turning knob to adjust the volume, one click for mute function. Dual channel stereo output, 2 cavity full screen speakers. The volume output interface adopts HDMI analytical output, and is equipped with raspberry pie and other development boards, which can completely solve the distress caused by the bottom noise of audio.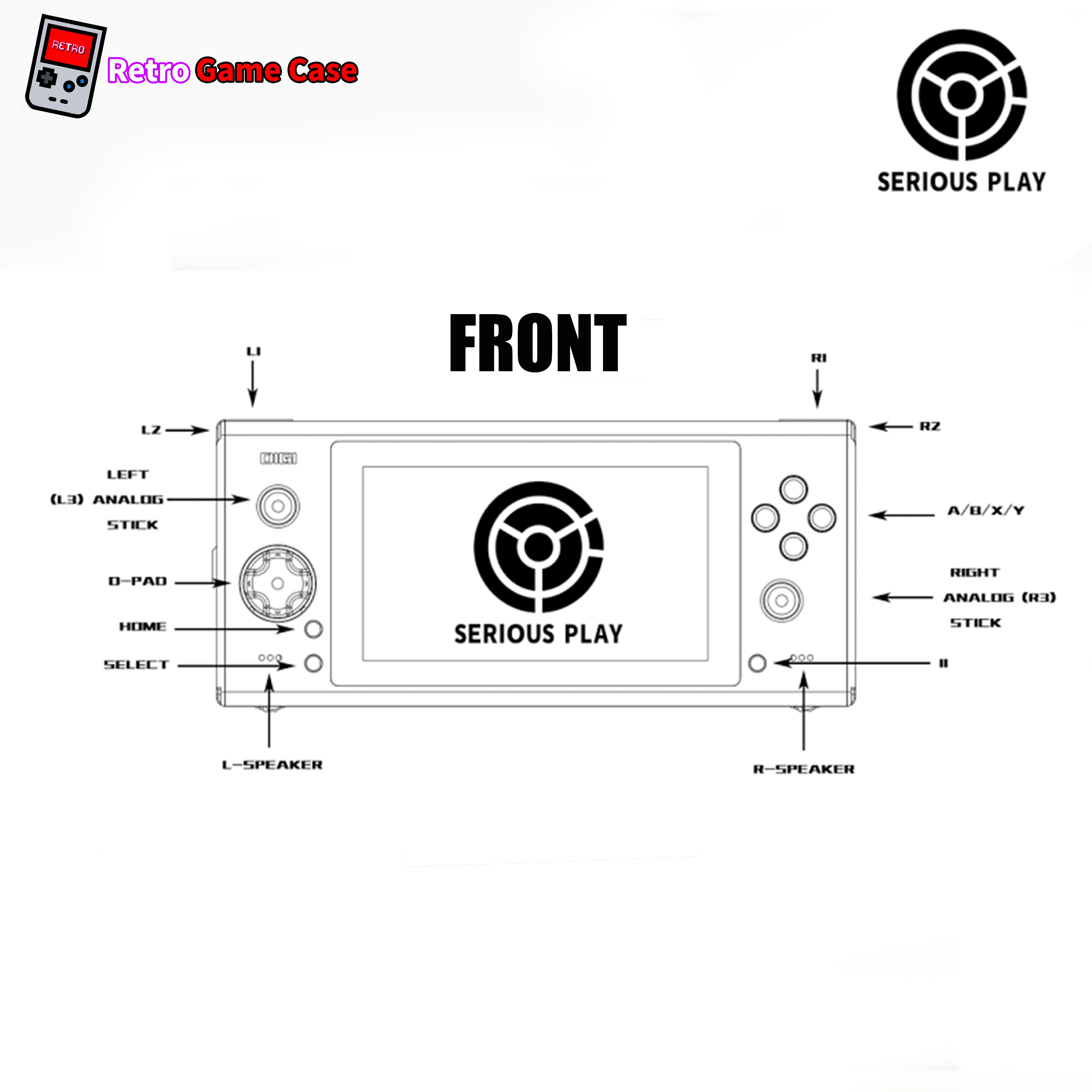 Buttons and Keypad Support
Come with left and right analog stick, d-pad A B X Y, L1L2L3, R1R2R3, select start home buttons. Also with a handle program recovery button is behind the earphone hole, this design which can restore the handle program to the factory default value without assemble or teardown the machine.
ATMEGA32U4-MU chip under Arduino is selected as the main controller of the chip, and the open source code is provided to facilitate users to replace their favorite source code. The default protocol is DINPUT and XINPUT or other protocols can be flash for your own favorite.
Our shoulder button L1L2 R1R2 is design independently and has obtained the patent certificate in our country. It can not only be pressed down, but also pushed in.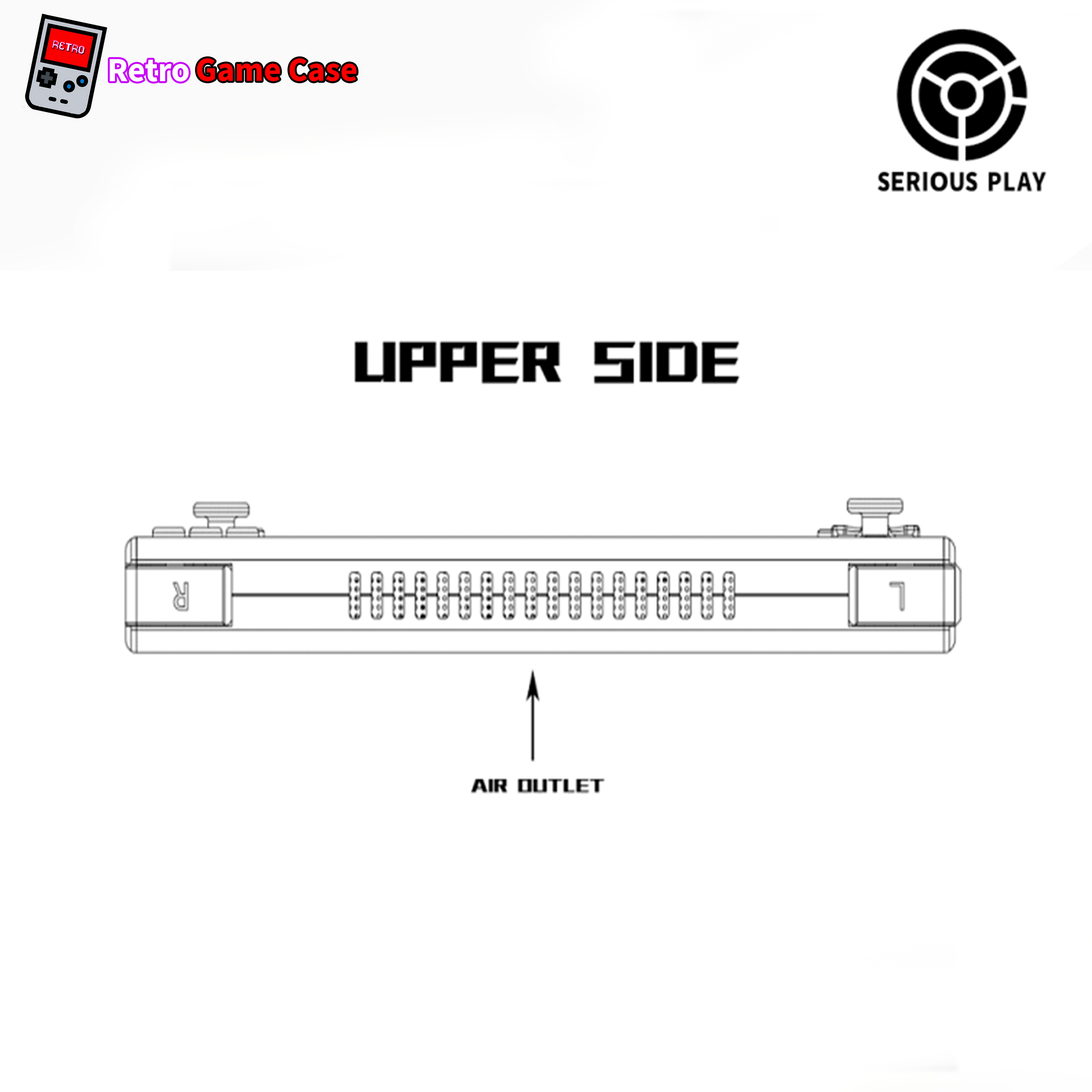 Analog Stick
We had re-design a smaller analog stick that come with 3 different analog stick cap for any players favorite, you can easily to replace the analog stick cap directly without need to teardown or disassembly the docking station to change the cap. Analog stick circuit by using spring pin as a contact mode/point which makes the replacement and disassembly easier and more efficient.
POWER
Default battery capacity is come with 10000mah, which is enough to ensure the need for gaming experience. This Docking Station support power module with QC3.0 and QC3.0 output, which can act as power bank and charges battery for other digital devices when we really need. In terms of power display, due to the fast charging protocol, it is temporarily unable to provide accurate power display. We will try to improve in the future.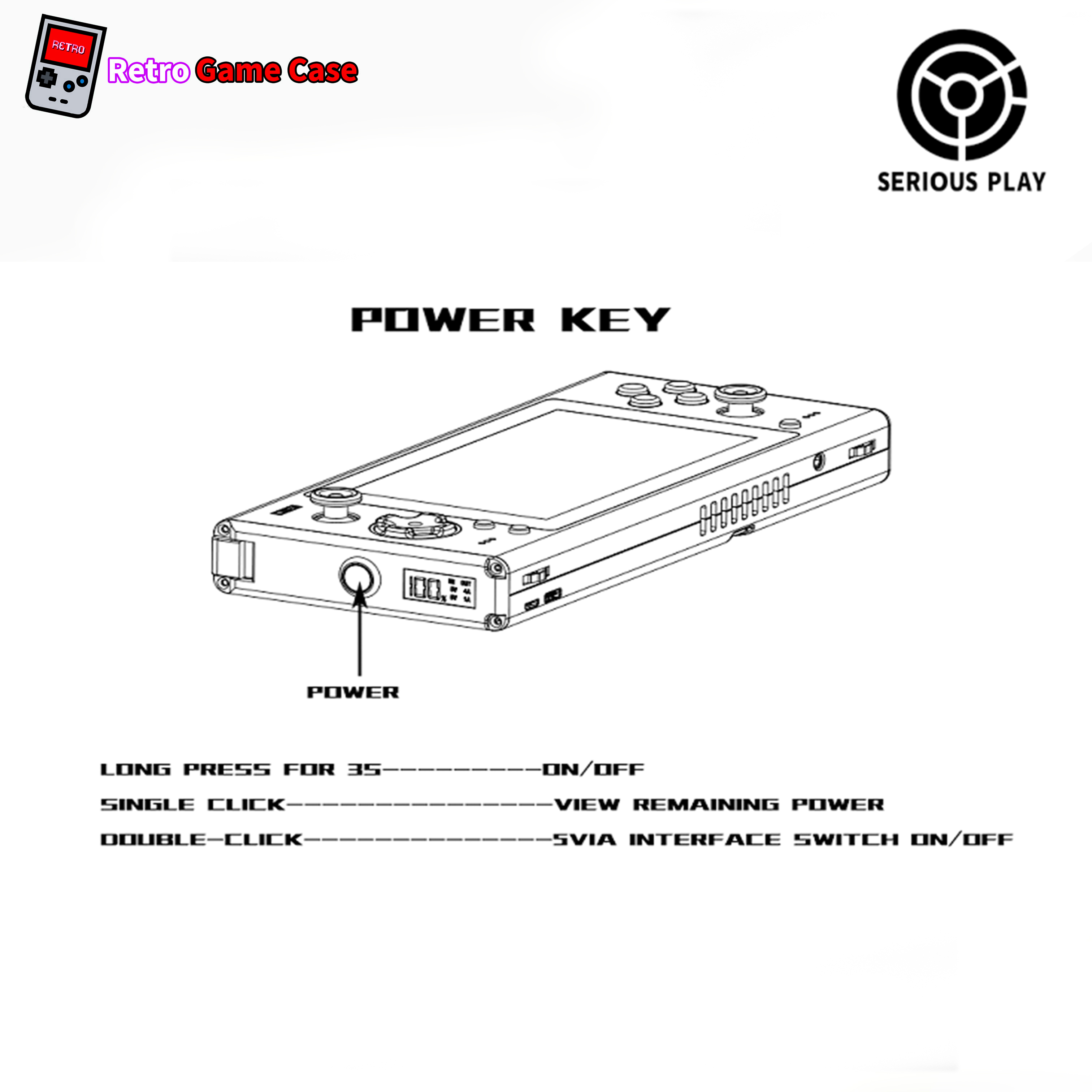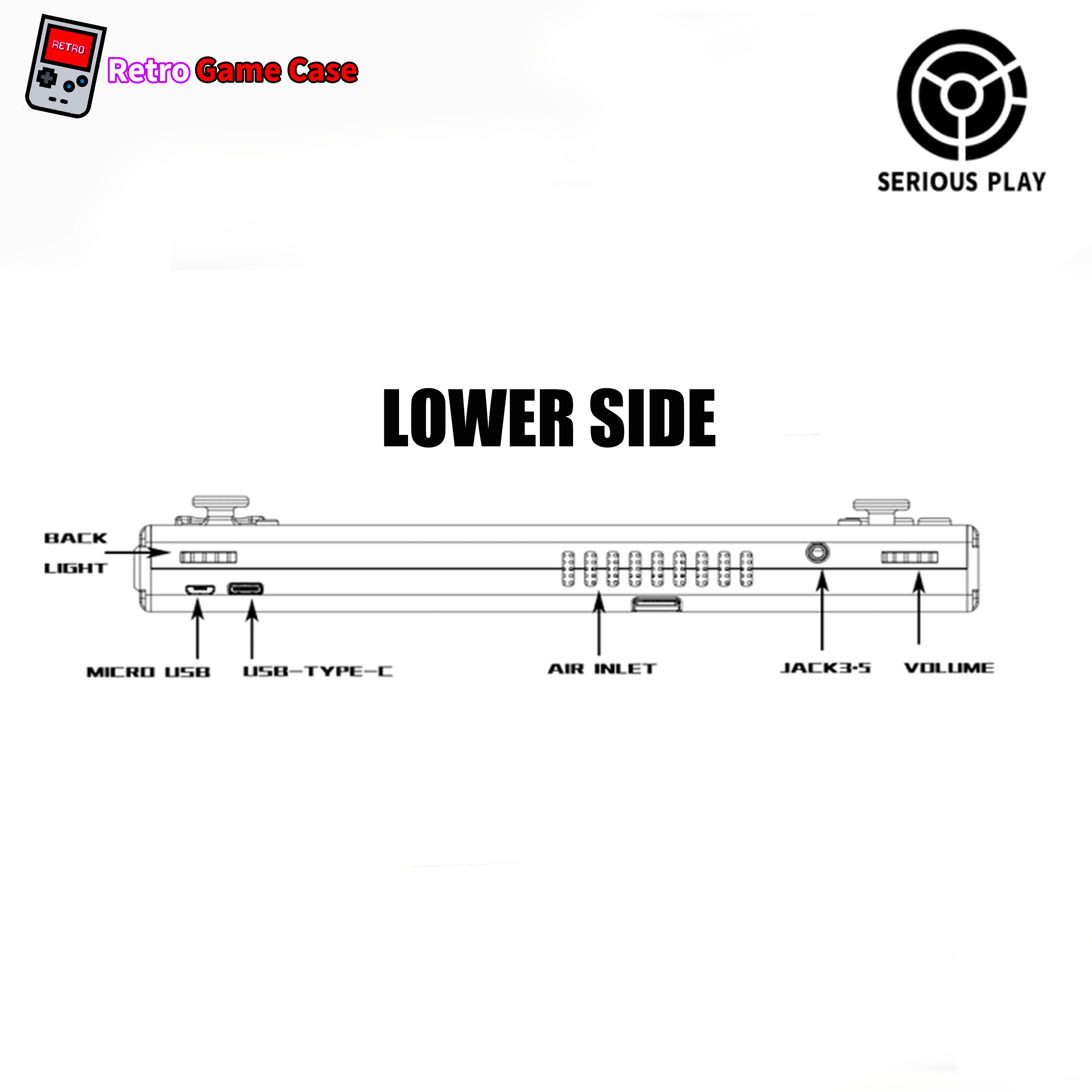 Connection
Come with HDMI X 1, USB 2.0 x 2, 3.5 headset X 1, USB Type-C x 1
This HDMI chip is come with a strong compatibility chip that enough to support more than 95% of the display devices on the market allow you to connect to any devices as you want. For more easily operation and prevent any miss-operation we made a special switch button, by press and hold for 3 seconds to switch over it.
With two USB 2.0 interfaces is much convenient to connect any others USB devices, such as controller, mouse, keyboard, etc. A 3.5mm headphone connector is designed on the lower right side of the fuselage, so as to avoid the earphone cable from disturbing our operation when playing. Type-C for charging interface interface and also which can provide power for other digital devices such as mobile phones.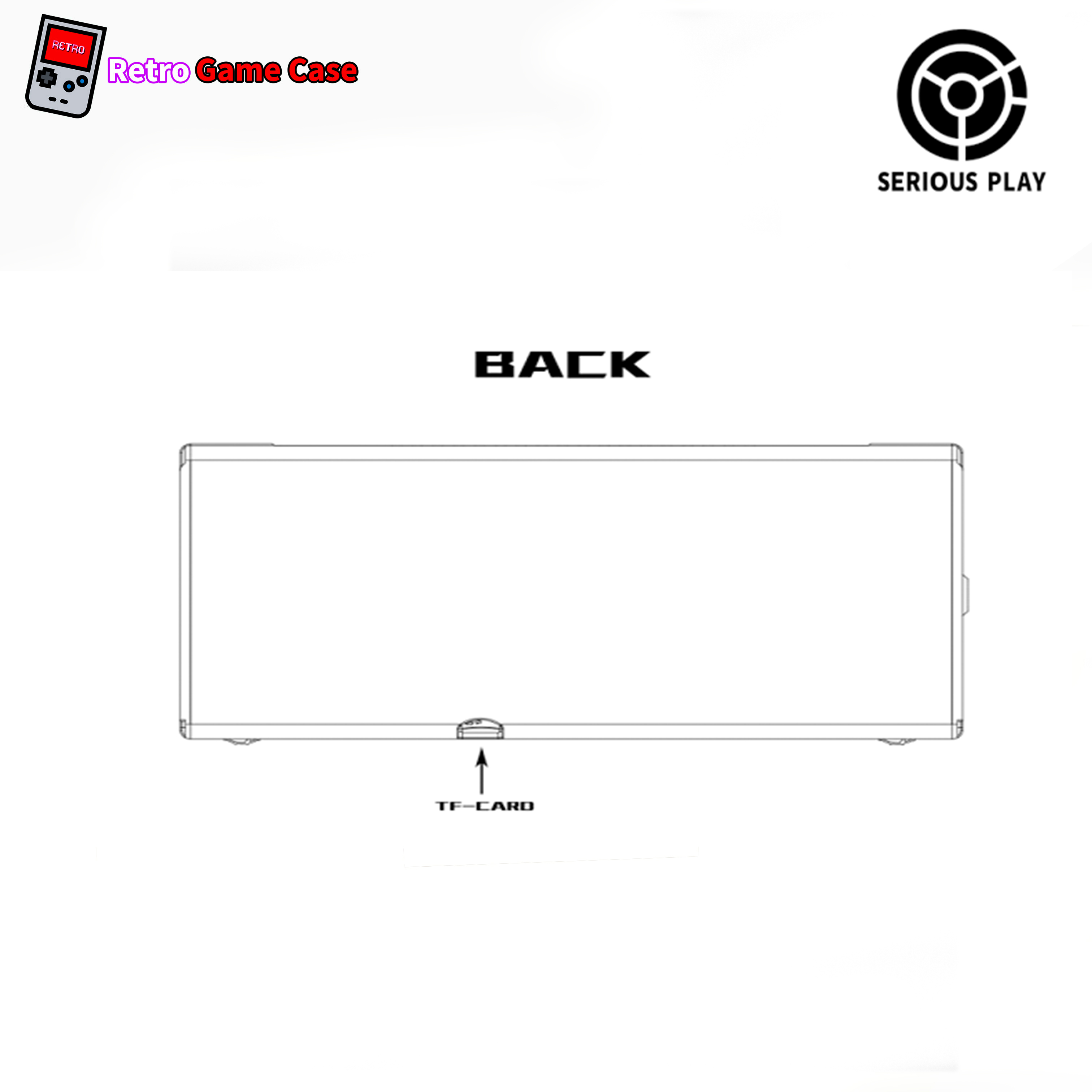 Specification:
Case: 6063 Aluminum + Plastic
Screen: 5.5" with Multi-Point Capacitive Touch
Screen Color: 65K/ 262K/ 16.7M
Screen Resolution: 720
Charging: Fast Charging USB Type-C support Input & Output
Buttons: Left & Right Analog Stick with replaceable Cap , D-Pad A B X Y, L1L2L3, R1R2R3, Select, Start, Home Buttons, Volume Knob (Default Factory Setting as DINPUT Handle Driver
Battery: 10000mAh
Sound: HDMI Sound Output, Dual-Channel Output, Encoder Switch to adjust the volume, press to mute
Docking Station Size: External (206mmX100mmX38mm), Internal (126mm x 95mm x 15mm)
Connection: HDMI x 1, USB 2.0 x 2, 3.5mm audio jack x 1, Micro USB x 1, USB Type-C x 1

Packages to Choose:
| | | |
| --- | --- | --- |
| Option | Photo | Operating System |
| Docking Station Only | | No |
| Docking Station + X96S Android TV Stick 4G+32GB | | Android 9.0 |
| Docking Station + Raspberry Pie 4B 4GB Ram | | Retropie LAKKA Rasbian |
| Docking Station + 8350 Computer Stick 4+64 | | Win10 |
| Docking Station + N4100 computer stick 4GB DDR4 128GB HD600 | | Win10 linux unbuntu |
| Docking Station + M3-6Y30 computer stick 4GB DDR4 64GB HD515 | | Win10 |
Question & Answer

1Q) Does it come with Core?
1A) Yes and No, Yes you can select the packages that including the core from Raspberry Pie / Android / Windows.
No when you just buy the Docking Station, all core including raspberry pi, x86, android tv all are not including for this Docking Station only if you choose this package. This Digi Dock 2 Docking Station is just a docking station for you to install what ever core you need that able to fix in.
2Q) What is the internal size to fix in the core?
2A) 126mm x 95mm x 15mm

3Q) If i wanna use raspberry Pie 4b core than how is those driver and image?
3A) Digi Dock 2 Docking Station is compatible with market any raspberry pi tv image, you able to use any image that you able to use with your raspberry pie core with this docking station, more over this docking station is work like a moving handheld display for you raspberry pi core. You may just need to do some setting for the controller.

4Q) If i wanna use x86 windows with this docking station?
4A) Yes, no problem

5Q) Than how to get those driver?
5A) Most of the drivers are provided by the official core, we just need to download it from the official core website. This is the example, if i use a M3 Stick, first i need to configure with the Arduino and use mouse and keyboard upgrade the protocol to PC360, this protocol is most friendly to use with the x86

6Q) Why PC360 protocol not come with or get ready with Digi Dock 2?
6A) Because the copyright of the PC360 protocol is belongs to Microsoft. We cannot use as commercialize, but we can let users upgrade themselves through open source, currently we are preparing it once ready will release the source code.
For chip flashing is not easy and may very complicated but we will simplified the entire process and built a self-recovery mechanism for this process. If your flashing process is fail or unsuccessful, you can just click the recovery button in the 3.5mm headphone jack, and re-flash it again.

7Q) Will you have any tutorial?
7A) Yes no worry, we will have all supporting tutorial for all needed, those that don't have we will try to get it prepare as much as we can.


Notice:
Serious Play N+ Digi Dock 2 Docking Station come with few package with and without core inside the docking Station. If you choose the option that does not come with core (Docking Station is does not come with any core, you need to have your own core to fix into the docking station).
Shipping Method:
Please do choose the By DHL Express / TNT Express or Fedex Express only, DHL eCommerce ePacket is not allow to ship with battery and the shipping date is much longer, only for those product with light weight and without battery. Express Shipping all are provided a tracking code with full trade for the parcel. Normally will take at least 10 days to 15 days and may cause any delay due just like currently the Covid 19 / restriction of import & export countries for transit / shortage of flight etc