*Plastic and Metal Shell Case / Build Kit and Full Console is sold out, we only able to restock and estimate to ship on early March - Shipping company is on holiday for Chinese New Year, please take note and agree before you place order.
*update on 2nd March 2021, currently the stocks is otw ship back, once received we will process to ship as soon as possible. Thank
*Updated on 17/3/2021, finally we received the stocks on 16/3/2021, we will start to prepare and ship out with first come first basic as high volumes order quantity for this product. Thank You
Stock arrived will start to ship for those order Kits first, for full console will start to fix and ship it as soon as possible, for metal case order the metal case is not arrive yet so still need to wait for the metal case.
A custom make small ESp32 game console by a Game Boy Advance look a like game key chain, this a a fully custom make ESP32 logic board, hand trimming and polishing to the tiny shell case.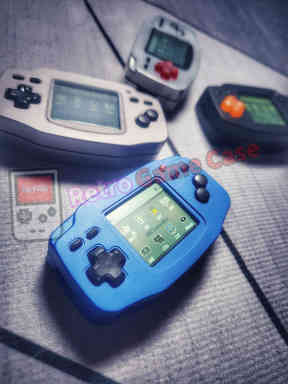 Specification
Screen: 1.4inch IPS Screen with 192 x 240 Resolution
SOC: ESP32 dual-core
CPU: 240 MHz
RAM: 520 KiB SRAM
Storage: 32GB Micro Sd Card
Battery: 500 mAh (Estimate 3 - 3.5 hours)
Support: NoFrendo NES emulator for Nintendo Rom, GNUBoy for Gam Boy & Game Boy Color, SMSPlusGX for Sega Master System, Game Gear & Coleco Vision Rom.
Charging:
- micro usb
Size:
*size may not 100% accurate, subject to the real product
Size: 65mm (L)x 45mm (W) x 14mm (T)
Screen Viewing Size: 31mm x 28mm
Color:
Black or Purple
Connection:
- Wifi and Micro Sd card
Package:
Build Kits:
Kits come with screws, shell case, logic board and all necessary parts to build it except the tools needed to build, you may need to prepare your own pliers, cutter, sand paper and screw driver, you may refer this link for the installation tutorial.
Game Mini ESP32 Installation Tutorial
1 x 500 mAh Battery
1 x Logic Board
1 x 32gb sd card
1 x Speaker
1 x 1.4 inch IPS Screen
All Buttons needed for the device
Screws
Double side tape

Console:
Full console that ready to play, we will help you to mods and fix all, you do nothing to the hardware side except you may need to flash or copy your own rom games to the sd card.
A build finishing device with 32gb sd card
Shell Case:
Metal: Front and Back Metal Shell Case and custom buttons sets
Plastic: A whole brand new Gamebox Mini keychain for you to mods it by yourself
Operating System Update File to download:
(you may refer below video -how to update the OS & transfer room by using WiFi)
Please take noted if you choose this optional metal shell case it will affect the WIFI signal.
Notice:
Pre-order:
Please do take noted that this Pre-order we should able to receive it and ETA is before 30/12/2020 only for Build Kits or Console only, so estimate to ship out if on early of January 2021,
If you choose to have the optional Metal Shell Case you may need to wait at least extra 10 to 15 days for the Metal Shell Case CNC process and Color Anodize. Please do understand and agree before place order, if you have any enquiry please do send us an email. Thank you
* Please do read and understand our Refund/Return/Repair Policy before place any order, once place means that you are agree to our terms and conditions.
Shipping Method:
Please do choose the By DHL Express / TNT Express or Fedex Express only, DHL eCommerce ePacket is not allow to ship with battery and the shipping date is much longer and only for those product with light weight and without battery.
Express Shipping all are provided a tracking code with full trade for the parcel. Normally will take at least 10 days to 15 days and may cause any delay due just like currently the Covid 19 / restriction of import & export countries for transit / shortage of flight etc