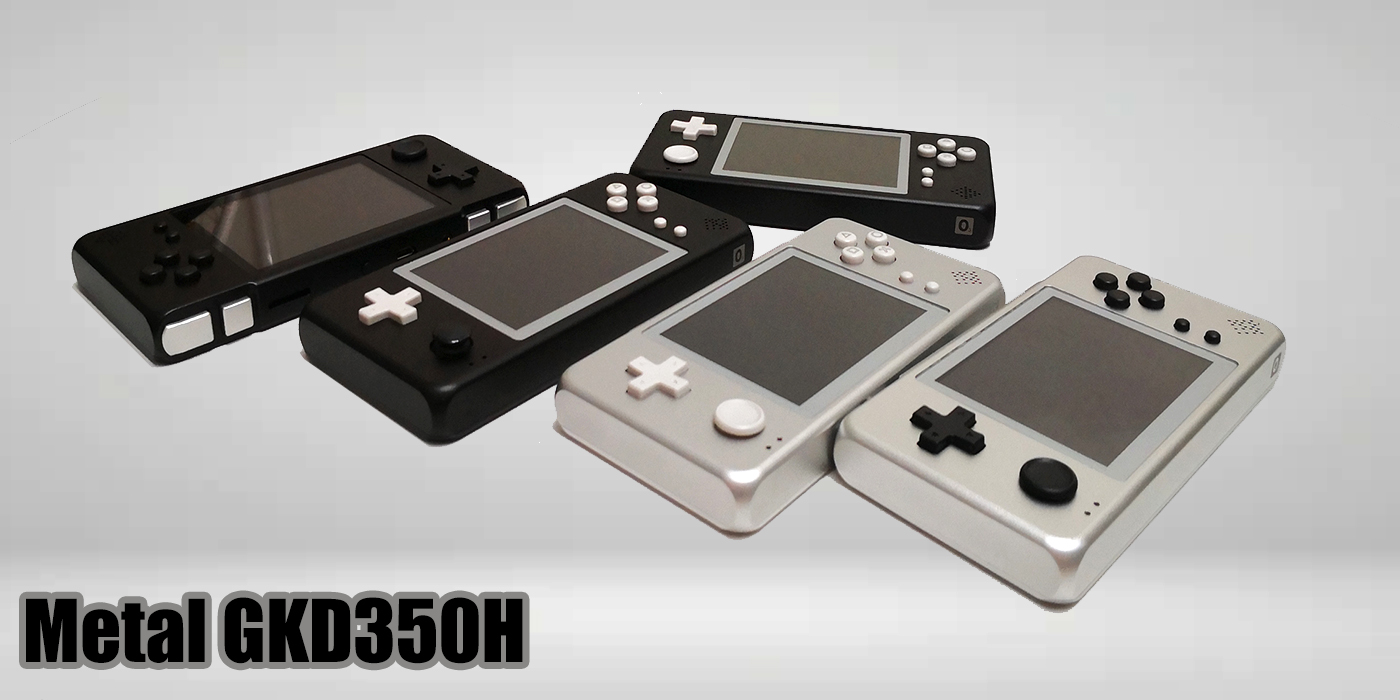 Game Kiddy 350H or GKD350H is a very great retro handheld gaming console especially for psx /snes/ cps3 games, now with second generation ozone custom made to www.myretrogamecase.com with some minor upgrade from first generation GKD350H Ozone Metal shell case
lighter than first generation metal shell case
relatively round of the metal shell case corner more comfort more easy to hold to play
L1L2 R1R2 Metal buttons pressing feeling improve for your gaming experience
with GKD350H original ABXY Button better than metal buttons
4000mah battery for longer life gaming
able to choose to upgrade the analog stick to PSV analog stick
Customize Specification
Ozone Metal Aluminium Shell Case
L1L2 R1R2 Kits come with converter board and Metal L1R1 L2R2 buttons
Original GKD350H ABXY PS Style buttons
Upgrade original battery capacity from 2300mah to 4000mah battery
Black or Silver Color Metal Shell Case with Silver Glass Screen lens
Optional Upgrade: (Please read)
PS Vita Analog Stick upgrade (Please do remark what color shell case <Black/Silver> and color buttons <Black/White> you need upon place order)

This may need additional 5-7 days time to processing as this will need to replace 4 very tiny very small resistor and a converter board with additional 6 wire soldering just for the PSV analog stick.

Come with:
GKD350H Metal Console x 1 unit (

*not come with any roms

)
Charging Cable x 1
32GB TF-Card x 1

Service Menu x 1
We have very limited quantity for the customize handheld console please do grab your console before the chance gone.
You may check below video for the process how we customize the first generation GKD350H with ozone Metal Shell Case.
A review from RGHANDHELDS Discord
https://www.rghandhelds.com/post/here-is-my-mini-review-of-the-gkd350h-metal-v2-customised-by-gamecase
Shipping Method:
Please do choose the By DHL Express / TNT Express or Fedex Express only, DHL eCommerce ePacket is not allow to ship with battery and the shipping date is much longer, only for those product with light weight and without battery. Express Shipping all are provided a tracking code with full trade for the parcel. Normally will take at least 10 days to 15 days and may cause any delay due just like currently the Covid 19 / restriction of import & export countries for transit / shortage of flight etc