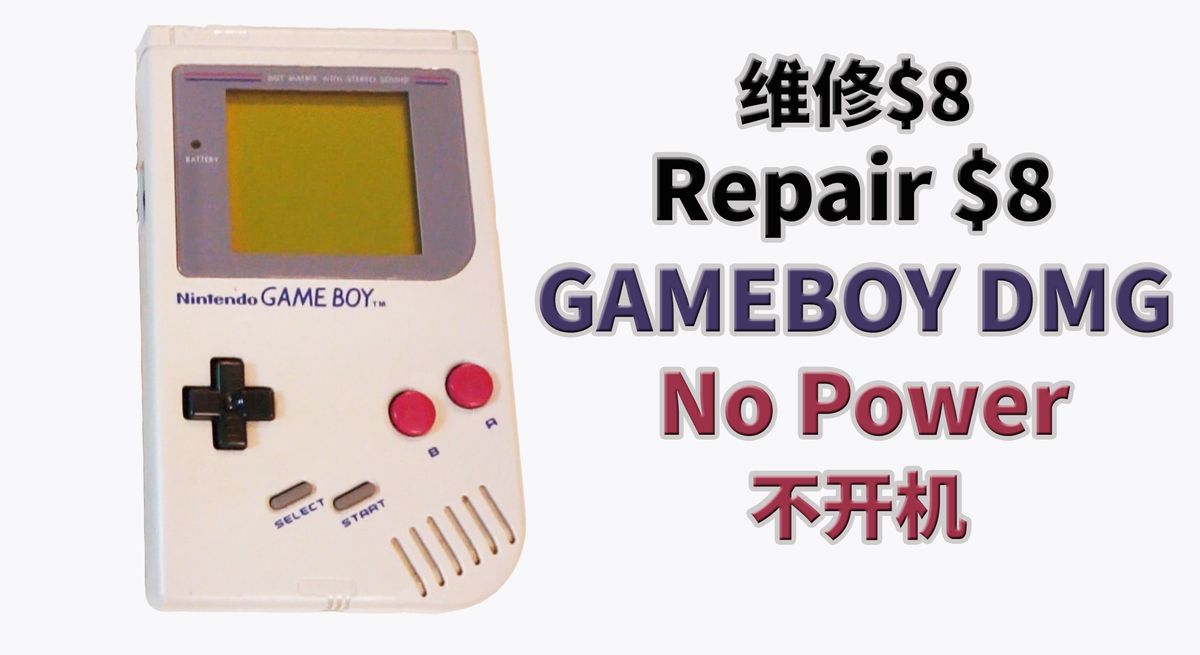 Nintendo Gameboy DMG Can't Power ON |
任天堂 Gameboy DMG厚机无法开机

We bought 2 Nintendo Gameboy DMG from japan yahoo auction this time with 1700yen equal to around 16usd, after we check and test it by insert the new battery we found that only one able to power on but with screen problem and another one can't power on. This time let try to fix the Gameboy DMG that cannot power on first, another one that able to power on we need to order the parts and will try to refurbish it in next video.
这次我们从日本雅虎拍卖行购买了2台Nintendo Gameboy DMG,价格为1700日元(约合16美元),在通过插入新电池进行检查和测试之后,我们发现只有一个可以开机,但是出现屏幕问题,另一个不能开机上。这次让我们尝试修复无法打开电源的Gameboy DMG,而另一个能够打开电源的Gameboy DMG我们需要订购零件,然后尝试在下一个视频中对其进行翻新。

Let's Go..
开始吧...


We need to disassembly it first, we need to unscrew total 6 screws at behind that 4 we can see very easily and another 2 is hidden under the battery cover. After we had unscrew the 6 screws, we need to unplug the flex cable of the screen, just pull it out with gently.
我们需要首先拆卸它,我们需要拧开总共6颗螺丝,有4颗在后面外壳的我们可以很容易看到,另外2颗隐藏在电池盖下面。拧下6个螺丝后,我们需要拔下屏幕的柔性排线,只需轻轻地将其拉出即可。
Than we will need to unscrew another 4 screw of the PCB board, after unscrew it we can easily to remove the PCB board.
First we check the PCB board any water strain or corrosion but the board are almost in good condition and no any marks or corrosion that we able to find. Than we check the battery metal connector we found one of it was corrosion, so we need to clean it by IPA.
我们需要再拧松PCB板的4颗螺钉,拧开后我们可以轻松地卸下PCB板。




 
首先,我们检查PCB板是否有水迹或腐蚀,但电路板几乎处于良好状态,没有发现任何水迹或腐蚀。我们再检查电池金属连接器时发现其中一个被腐蚀,因此我们需要使用IPA酒精对其进行清洁。
Yes, after we clean it by IPA with tooth brush, the Gameboy alive again. We are so lucky to have a easy fix damage Nintendo Gameboy DMG to alive again.

Check our video for the complete process we had done. cheers...
是的,当我们用牙刷把IPA酒精清洁它之后,Gameboy又复活了。我们很幸运能够轻松修复损坏的任天堂Gameboy DMG,使其再次存活。




 
查看我们的视频,了解我们已完成的完整过程。干杯...